Last week, I spoke to a gathering of between 50 and 60 multiple myeloma patients and caregivers in Atlanta. Here is a link to the article I wrote about the event: A Pair Of Hopeful Messages From Atlanta.
One of those "hopeful messages" concerned creating awareness among health professionals, helping them spot myeloma early. Here is an excerpt from the article about this:
…And speaking of inspired, I got the feeling a number of the patients and caregivers who attended heard my message about the importance of raising myeloma awareness. Not so much to help raise money–that's important, too. But to help physicians and nurses consider the possibility that a person's back or rib pain just might be multiple myeloma, even if they are young–or their blood work looks ok.

More than one myeloma survivor I spoke with last night had their cancer misdiagnosed. And that doesn't include me! I was misdiagnosed twice.
During the Q &A portion of the program, several attendees asked for specific ways they–and specialists like Dr. Franco–can start helping raise myeloma awareness among health care professionals.
It was touching others agreed with me about this important issue. This won't be the last time I speak or write about it!
I warned you I would re-visit this vital topic! Here is a journal article, designed for physicians from Great Britain, on a site appropriately called GP (short for General Practitioner), about the importance of identifying myeloma early in order to prevent bone and kidney damage:
Haematology – Multiple myeloma

Delayed diagnosis of this rare condition can increase the frequency of complications.
By Dr Shirley D'Sa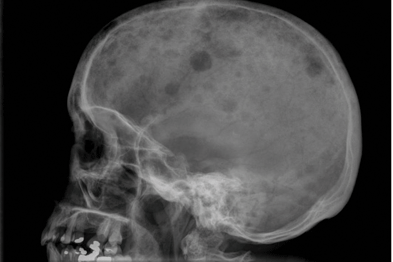 Characteristic osteolytic lesions in the skull of a patient with myeloma
(Photograph: Author images)
Myeloma is a rare haematological malignancy, accounting for approximately 50 cases per million per year in the UK. The median age at presentation is 70 years, although a small number of patients may present before 50 years of age. Most patients present de novo, but a few develop from pre-existing monoclonal gammopathy of uncertain significance.

Clinical features
Patients commonly present insidiously with symptoms such as fatigue, bone pain and recurrent infections. Occasionally, they present acutely unwell and require emergency treatment.1
The clinical course of the disease can be extremely variable, with a median survival of three to five years. However, an increasing number of patients with myeloma survive for closer to 10 years, due to the availability of novel therapies such as lenalidomide and bortezomib.
Anaemia is present in 80 per cent of patients at diagnosis. Bone pain due to osteolytic lesions and pathological fractures is a frequent presenting feature (see image); half of patients have vertebral fractures and up to 30 per cent have non-vertebral fractures at diagnosis. Lytic lesions are found in 80-90 per cent of patients at presentation and 60 per cent have diffuse bone loss. Bone demineralisation, with renal impairment, may lead to hypercalcaemia. Renal impairment occurs in 20-30 per cent of patients at presentation.
In one-fifth of cases, only light chains may be produced (Bence-Jones myeloma) and in 5 per cent of cases, a monoclonal protein may be absent altogether (non-secretory myeloma); these circumstances may lead to pitfalls in making the diagnosis if the requisite tests (such as urine electrophoresis or imaging) are not done.
Myeloma cells typically reside within the bone marrow compartment of the axial skeleton and proximal long bones, where they induce osteolytic bone disease.
Since osteoblastic activity is suppressed, a bone scan is not a useful screening test for myeloma because it is typically negative.
Investigations
To screen for myeloma, the following investigations are required:
FBC: Normocytic normochromic anaemia (typically Hb 9-10g/dL) is usually present but Hb may be normal in asymptomatic myeloma. ESR: Typically markedly raised (often >100mm/h), but may be normal in non-secretory or light chain-only patients.
Renal function: May be normal; however, a raised urea and creatinine may herald significant renal deterioration and should be acted on promptly (immediate withdrawal of nephrotoxic drugs, referral for admission/ rehydration, treatment of associated hypercalcaemia).
Calcium and albumin: Hypercalcaemia is found in 30 per cent of patients at diagnosis.
Serum electrophoresis: To check for presence of paraprotein in the blood.
Serum immunoglobulin levels: Typically globally reduced in myeloma (immuneparesis), except for affected immunoglobulin subtype.
Urine electrophoresis: To check for light chains in urine (not dipstick, which does not detect light chains).
Imaging of symptomatic areas: Plain films or MRI (not bone scintigraphy).
Management
Only symptomatic patients require therapy. Following confirmation of the diagnosis by bone marrow examination and further imaging, younger, fitter patients (≤65 years) are treated with outpatient-based chemotherapy to reduce disease bulk, and then high-dose chemotherapy followed by autologous stem cell transplantation.
Older and less fit patients are treated with less intensive combinations of chemotherapy, which now include thalidomide as standard.
Such therapy usually achieves a remission duration of 12-18 months followed by disease progression, requiring further chemotherapy directed at inducing further remissions.
Guidelines for the management and supportive care of myeloma patients have recently been published.2
A GP's role
GPs have a key role to play in promoting a favourable outcome for patients with myeloma:
At diagnosis
Have a high index of suspicion for the disorder.
Initiate prompt and appropriate investigation of unexplained back pain, applying the red flags approach.3
Test urine as well as serum for a monoclonal protein.
Early referral to haematologist (consider the two-week rule).
"Spot on!" as the Brit's would say. Hope our GPs here in the States are paying attention, too.
Feel good and keep smiling! Pat